If you have been searching for your new morning kick-start to the day, in a natural, caffeine-free way, we'd like to introduce you to your new best friend: Mushroom Tea.   Meet the new (but old) mushroom remedy that is chock-full of enough benefits to kick those daily supplements to the curb.
Ah... teas... the simple delight of satisfaction when you get the amazing benefits of plants as well as the warmth and yumminess of a tasty herbal tea. If you're a bit of an herbalist, interested in botany like I am, or if you just care about expanding your overall well being, you may be curious about how to make your own mushroom tea.
A fun way to utilize the healing benefits of mushroom tea and get back to the ancient way of herbal medicine, mushroom tea offers a variety of conditions you may want to treat.
We're going to tackle the basics to make sure you feel like a brewmaster in no time. Everything from why people are choosing this earthy remedy, to selecting your type of mushroom for your tea, to preparing your own personal healing remedy at home.
Tea is one of the founding remedies of herbal medicine. According to Chinese legend, this dates back to 2737 B.C.E when Emperor and botany master Shen Nong accidentally discovered tea. As he sat underneath a tree and the wind blew, it resulted in leaves flying into his tea. As he drank this herbal infused water, he studied the plant and its healing properties and found that this was an effective way of ingesting plants and gaining their wellness benefits.
Mushroom tea is one of the superfoods of the world. Mushrooms are fungi, and fungi are an essential part of our circle of life here on Earth. Fungi are responsible for the decomposition of dead or decaying life matter, and they've been proven to be greatly beneficial to those treating and healing various mental and physical conditions. In addition, mushroom tea is a spiritual practice and embodies many qualities that make it a popular drink across the Eastern world. More recently, in the past 50 years or so, mushroom tea has quickly become a go-to for many people whenever they feel a cold coming on, or if they need an energy, immunity or mental boost.
Teas allow for a better way to experience all the properties along with being able to combine other herbs, plants, teas, juices, and mixes of interests. Teas are easier to take down some of the bitter, unpleasantly tasting superfoods rather than eating a bunch of different leaves and plants in order to gain their nutrients. When you eat food, it can take longer to pass through all the areas of your body, going from your mouth to your stomach, to processing all the good properties into your bloodstream. This is another reason why tea remains in the top two beverages in the world (next to water being the number one), it allows for quicker absorption of plants, herbs, and superfoods nutrients. Potency, flavour and dosage are very important as each individual person has very personal/distinct needs - with mushroom tea, you can brew what you need and optimize the results.
If you have ever tried to research mushroom tea, you will most likely find out that there's not just one type of mushroom you can use for tea. In fact, there are thousands of mushrooms, but only certain species are edible or beneficial (that we know so far).
Selecting mushrooms for your tea comes down to your preference in terms of taste and healing capabilities. Tea allows for a subtle taste from any plant or herb making it easier to ingest than eating it to treat medical and health conditions. It is also typically easier to use tea for health benefits than it is to eat plants and herbs, allowing for a cup of hot water wellness.
Since there are many mushrooms you may consider for your tea depending on your desired effect and areas of treatment, we'll go ahead and cover some of the main and favorite mushrooms of ours.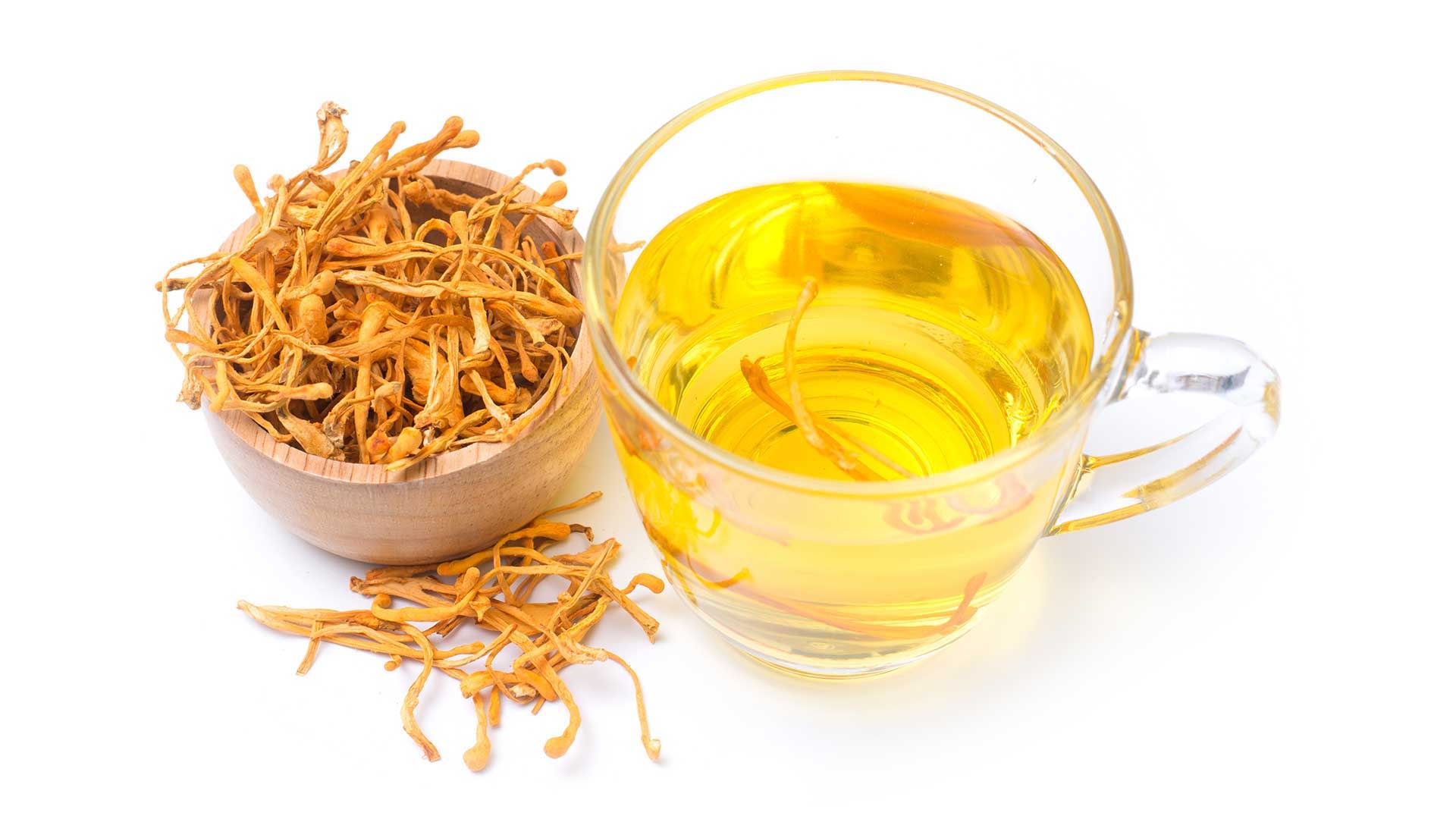 One of the most interesting of the mushroom family, cordyceps are known as the "energy booster" of the fungi family. There's nothing quite like the miracle of new life that comes from cordyceps. Used in Chinese medicine since the 15th-century, and in modern medicine to treat symptoms related to and treating cancer, fatigue, and improving sleep quality. These mushrooms have a cocoa powdery type of taste to them, with a nutty, savory and slightly salty flavor profile. This fungus grows from the bodies of hosts, creating a new life to insects such as caterpillars and ants. Using cordyceps in a tea imbues the drinker with an increased sense of vitality without the possible cringe of biting into this unique fungus.
Try our cordycep tea! Buy it here.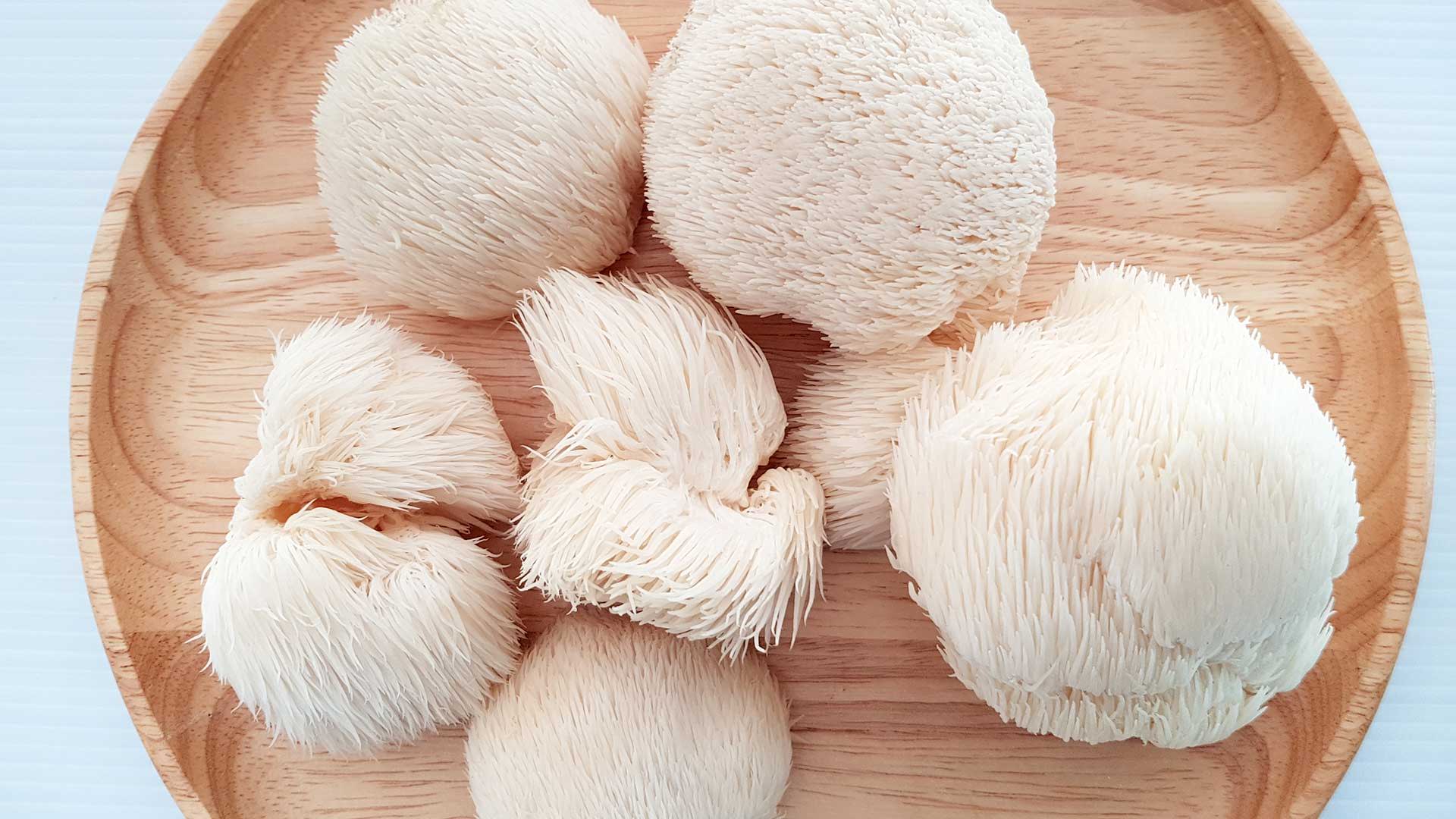 This mushroom's name comes from its interesting appearance - picture a fluffy, puffy white lion mane, but its hairs are actually tendrils of fungal nodes!. We know, this is probably more in-line with a creature from Star Wars, but lion's mane's strangeness is only matched by its ability to boost your brain. These mushrooms typically grow in Asia, North America, and Europe on trees that are decaying or dead. Lion's mane has been used to treat immune function, inflammation, anxiety, depression and a laundry list of neurological disorders. The taste of lion's mane is often compared to lobster, resembling a meaty, sweet and savory profile. Using this mushroom in a tea turns the flavor that's typically associated with being meaty due to its texture, into one that is more full-bodied.
Try our lion's mane tea! Buy it here.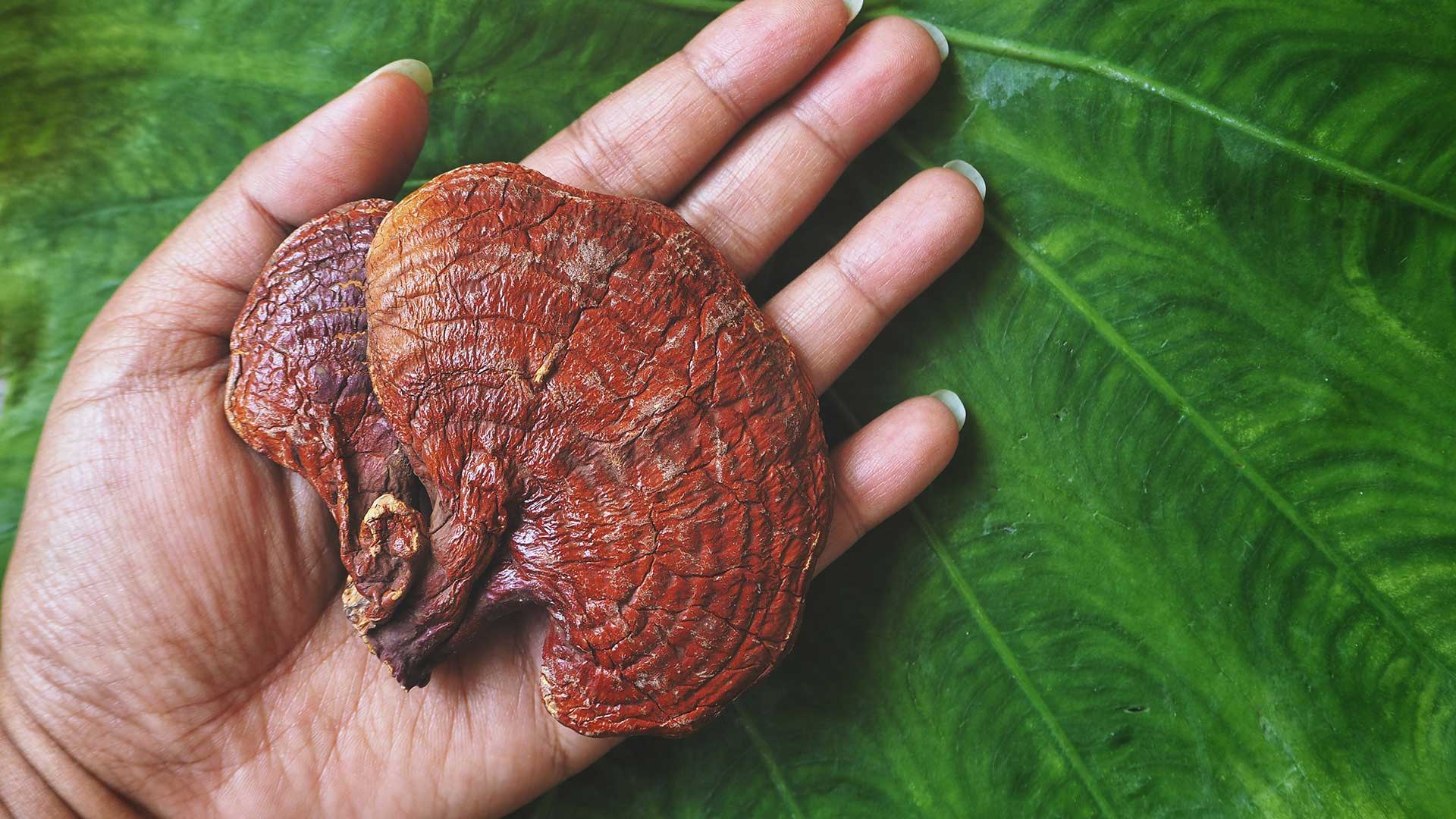 These reddish-brown mushrooms grow in Asia, Australia, and South America. They grow on hardwood trees that are decaying in warmer climates. Reishi is typically used to treat many health conditions and possesses many healing benefits, including: aiding and boosting the immune system, anti-cancer properties, fighting fatigue and nullifying depression. These mushrooms taste bitter in a pleasing way, with hints of woody or earthy tones. Reishi has a meaty flavor profile that is often complemented by adding a favorite type of sweetener such as almond milk or agave.
Try our Reishi tea! Buy it here.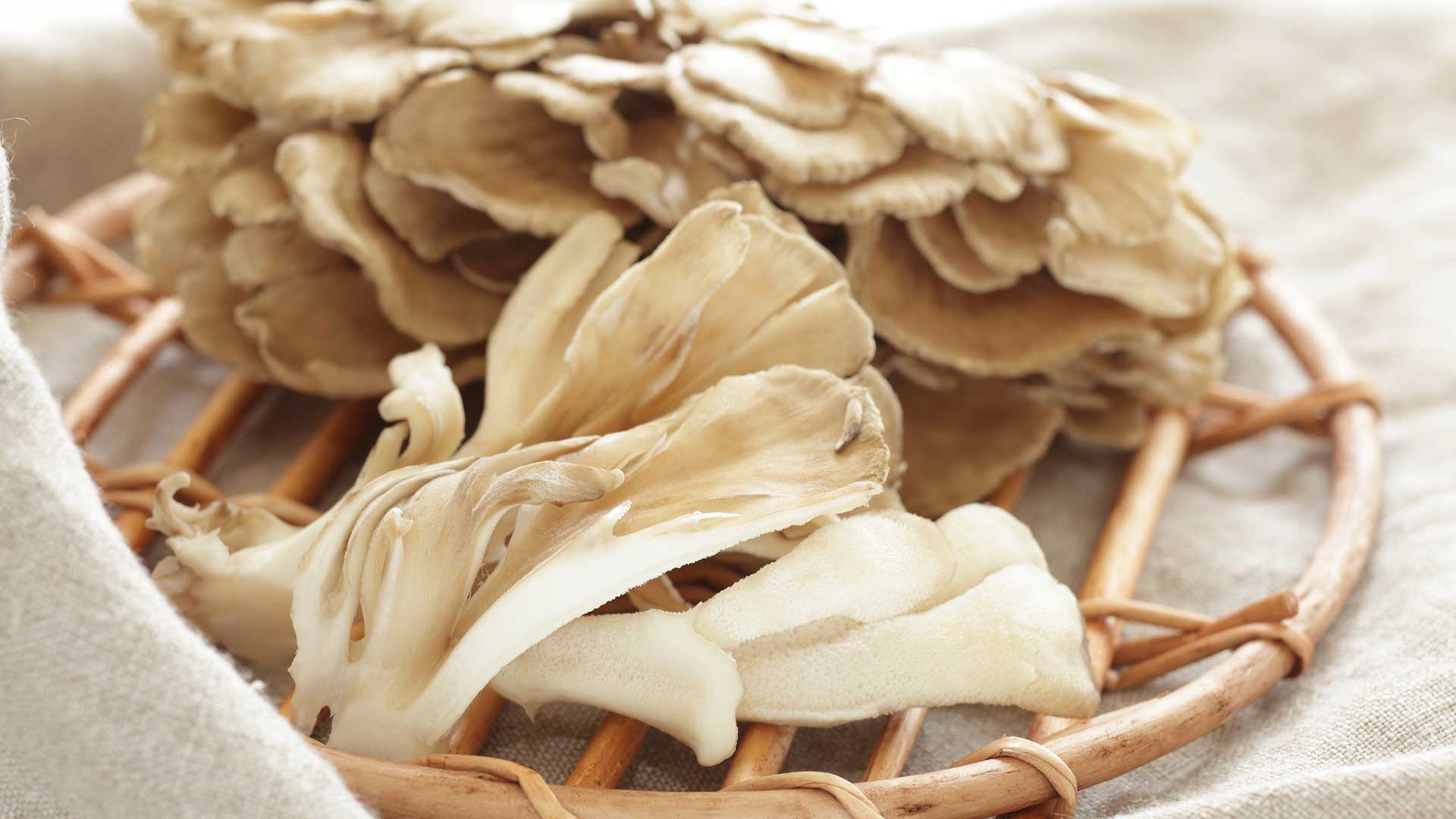 The maitake mushroom is the key if you're looking for a new happy tea! Maitake means dancing mushroom in Japanese, getting its name for dancing with happiness upon finding it in the wild. Some of the benefits of maitake include its ability to soothe mental and physical fatigue and regulate systems in the body that have become unbalanced. This mushroom grows wild in parts of Japan, China, and North America at the bottom of Oak, Elm, and Maple trees. It has been used in Japan and China for thousands of years and has only made its way to the west more recently as people praise this mushroom for its benefits on health, vitality, and longevity.
Preparing Your Mushrooms for a Tea
Now that you got the jist of what types of mushrooms there are, some uses and healing benefits, it's time to brew your tea! The lovely simplicity of mushroom tea is that it's very easy to prepare. You will need a few materials: a tea kettle or pot for boiling hot water; a grinder or blender (mortar and pestle could work as well) to crush your mushrooms; a steeper to place the mushrooms in; and of course, your favorite mug. This routine is so pleasurable, applying your new-found knowledge of botany, and using fungi to heal. My personal favorite is using a mortar and pestle as it allows for a pleasing experience that feels very farm-to-table.
Let's Walk This Through, Step-by-Step

Step 1: Choose your mushroom of choice
Step 2: Make your mushroom powder, using a grinder, blender, or mortar and pestle until fine enough to fit into steeper
Step 3: Put your crushed mushrooms into steeper, place steeper/tea bag into teacup/mug
Step 4: Boil water and pour into your mug of choice
Step 5: Let mushrooms brew & steep until it has reached your desired level of potency (suggested time can range from 3-5 mins)
Step 6: Enjoy your fresh batch of mushroom tea and soak in all its healing benefits!
How To Spice Up Your Mushroom Game… Literally
Our optional step 7 is to add a little spice to your mushroom tea and when we say literally we mean it's time to get out your spice rack! Some favorites people like to include: ginger, chai mix, turmeric or ginseng. Some other ways to spice up your tea, but without the spice, would be to add lemon, almond or coconut milk, or one of your other favorite tea leaves such as green tea.
Whether you are new to making at-home tea brews or an expert, I'm sure you will find that the fun part about making shroom tea is that the possibilities are endless. With mushrooms, you will be on your way to feeling at your best. So get out your mad scientist apron, experiment with your favorite healing remedies, and get brewing your favorite teas. And most of all, remember: you can't spell FUN-gi without having a little fun along the way.